The Centrecorp Foundation Board
Sheralee Taylor
Sheralee is a local Arrernte women, born and raised in Alice Springs. Sheralee spent some of her teenage years living in Queensland and completed studies before returning home to Alice Springs. Since then she has worked in various roles within Government and Non-Government sectors of Justice, Media and currently Health, which has become her passion. Sheralee is actively involved in sports in and around Alice Springs from coaching, to playing, and panel member on the CAAMA Sports Show. Sheralee is very supportive of Aboriginal people to achieve in their own rights and achieve goals to become strong role models for their community.
Darryl Fitz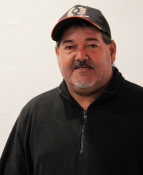 Darryl Fitz (Jungarrayi) is a local Warumungu man from Tennant Creek and also has a strong family connection to the Kaytetye (Barrow Creek) area.
Darryl has been employed with the Central Land Council in Tennant Creek Office since 2001. He is currently employed as the Office Manager, in addition to his working life in Tennant Creek, Darryl is a steering committee member of the Nyinkka Nyunyu Art and Culture Centre, is involved with the local Native Title Corporation and is also a representative on the Interim Barkly Governance Table Regional Deal.
Darryl is a strong advocate for the protection of indigenous peoples rights and interests.